Flexibility is a built – in feature with Ryan Designer Homes because whether you are looking for a Personalised design and build , to renovate or you have your own plans , we stand ready and willing to achieve the home of your dreams.
Personalised Design and Build
Renovations or Extensions
Personalised Design & Building Services
Your home is very personal to you ,and so is the architectural design and build process. Every home we design and build reflects our lifelong passion for the industry on which we have built our livelihoods, and with our clients we create "living Design" -a home that reflects your personality. Pat and Petrina Ryan work with you personally every step of the way and below is a brief on What we do:
We can assist you in choosing a block of land

We understand that when it comes to designing, who do you entrust your dream home ideas to- can we interpret your ideas and reflect them in to drawings- yes we can

We work with award winning Designers and architects to create a unique personalised design for you that will reflect your personality

We have BMIX walk through of the design so you can be 100% sure of meeting your expectations." As we understand that you need to trust we are reflecting your ideas to drawings

We recognize that building can be a daunting process so have collated a "Six Step to Design and Build" power point to ensure you understand the process
We bring to life your visions for a new designer home, and we are particularly proud of our ability to complete projects on budget.
We understand that you need to deal directly with the builder – there are no sales persons in between

Our in-house Quantity Surveyor gives us the ability to project manage your home design and engineering elements to ensure a cost-efficient build.

We are passionate about delivering your dream home based on your ideas and examine every aspect and design feature to ensure its built to exacting standards.

We ensure costing feedback is open and upfront and clarity of what is included is essential.

We love to assist with colours and interior design and Petrina is available to predesign all cabinetry.

We provide clear , concise documentation with a fixed priced contract.
It's no secret here on the Sunshine Coast, that "our secret" lies in the in-depth consultations we undertake to get to the heart of the matter. Be it a custom design or extensive renovation with personal needs in mind, the perfect home set on a difficult landscape, or completed plans needing a final look over, Ryan Designer Homes has the team and owners to deliver your vision.
Detonate/Renovate or Extension
It may be that all your current home needs to fulfil its potential as your dream home is perhaps some extra room(s) or a facelift to key areas.
Or you may even want to knock down your existing home and start again. Ryan Designer Homes is not limited to building homes from scratch.
The same care and expertise that delights our clients both old and new can help transform your own home at a fraction of the cost.
Deciding to bulldoze and rebuild does not have to be a dauting task. Here at Ryan Designer Homes we can project manage all aspects from concept to completion.
We can organize permits for demolition of existing home , including managing the removal of Asbestos

We are happy to co-ordinate all aspects of removal of pools, hardscape and existing fencing

So don't shy away from rebuilding as we can take care of all aspects and included it in your Fixed Price Contract
Over the last 20 years , Ryan Designer homes have completed many rebuilds/and home extensions.
If you love your existing location but need to upgrade your home , let Ryan Designer Homes come in and appraise the existing home structure and advise on the best way to approach the new extension or renovation.
Commercial, Industrial, Civil & Multi-Residential Builders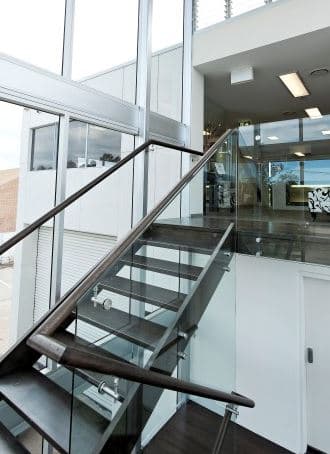 Commercial builders on the Sunshine Coast and Brisbane. We are multi-award winning builders of well designed commercial and industrial buildings throughout Queensland's Sunshine Coast and Brisbane City regions. Founded on strong commitment to the use of excellent construction, work practices, quality, unique materials and personal service.
Our experienced team specialises in customised construction methods to meet each of our clients' needs and lifestyle aims. Planning to build your commercial building represents a substantial investment in your business and our team can assist you at every step, from choosing a site, custom design, interior consultancy to completion landscaping.
Ryan Construction are very proud of our Housing Industry Association (HIA) and Master Builders (MBA) award-winning track record, and our reputation for attention to detail and friendly client service.
Our pricing is competitive and we would welcome the opportunity to provide you with a quote on your next project. If you are seeking an experienced team of Sunshine Coast / Brisbane builders to assist you, from custom design to completion, contact our team at Ryan Construction to make your project a reality.
To assist you in the process of building we have collated a 6 step outline that helps you see the path were you are, to walking through the doors and enjoying life in your new home.
4/27 Premier Circuit, Warana QLD